How to Make a Ladybug Cake
Easy directions for making this ladybug cake:
Make a two layer ten inch round cake and a two layer six inch round cake. The sizes can be adjusted depending on how much cake you need.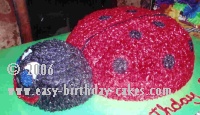 To assemble the cake, put icing between the ten inch layers and the six inch layers. With a knife shape the body of the ladybug curving so it is nice and rounded. See the second picture below.
Related Cakes
With the six inch layers, you will slice half of the bottom layer off before shaping.
You will use the star tip, size #18 to do all the fill in work and the round tip, size #5 for all of the outline work.
First use white and blue icing to fill in the eyes on the head.


Next, with red icing fill in the mouth.
Now make a black icing and cover the rest to of the head and the spots on the body.
Fill in the rest of the body with red icing.
Use black icing and the round tip to draw the line down the center of the back. Also outline the eyes.


Share Your Ladybug Cake!
If you have made a ladybug birthday cake that you would like to share, please submit your cake here and let us know how you made it! We would love to feature your cake on our site. Please make sure to include a photo of your cake and a description of how you made it, so that we can all share ideas and learn from each other!
See Ladybug Cakes That Were Submitted By Others To This Site!
Click below to see other ladybug themed birthday cakes from other visitors to this page...

Nina's Lady Bug Cake






This lady bug cake is one layer yellow cake with one layer chocolate with cookie dough frosting filling. It was made in a 9x9 square cake. The outside …
My Little Love Bug Cake






The cake is a 2 tiered cake, each tier is 3 layers of cake. One layer is white cake, the second is white cake with green coloring and almond extract and …
Pink Ladybug Cake






This ladybug cake is 2 tiers, with fondant flower cut-outs, a border, and ladybugs. For the ladybugs, I rolled the fondant into a little ball and smushed …
Round Lady Bug Cake






To make this lady bug cake, I used the Wilton Sports Ball cake pan. One half of the ball I used for the lady bugs body. I used a star tip to decorate …
Two Tier Ladybug Cake






This ladybug cake was actually a baby shower cake, but it could easily be for a girl's birthday. Just 2 layers iced in buttercream, and I made the green …
Lady Bug Birthday Cake






To make this lady bug birthday cake, I just baked a 2 layer round cake and put icing in the middle as usual, then trim to make the shape of the lady bug. …
Ladybug Cake for First Birthday






This ladybug cake was the smash cake for a first birthday girl. This cake was baked using half of the Wilton Ball pan. It was covered in rolled buttercream. …
Ladybugs and Daisies Cake






This ladybugs and daisies cake is a 10 inch round with an 8 inch round stacked. The cakes were covered in rolled buttercream. A few days ahead I made …
Ladybug Birthday Cake






For my daughter's FIRST birthday I did a Ladybug Cake because we call her our little bug. It turned out so cute and I had a lot of fun trying to figure …
Ladybug Cake






Bake two round cakes in the size you would normally need for a two-layer cake. Place the first cake on a board or cake plate and frost with chocolate …
Ladybug Baby Shower Cake Not rated yet
For this ladybug baby shower cake, I used a ladybug shaped cake pan and boxed cake mix, one mix for each cake I baked according to directions. …
Free Newsletter
Sign up for our free newsletter "The Icing on the Cake"